To celebrate the end of The Ride™, anons voted on various categories. The results were released on June 10, 2022. The original post can be found here: desu, local.
Character awards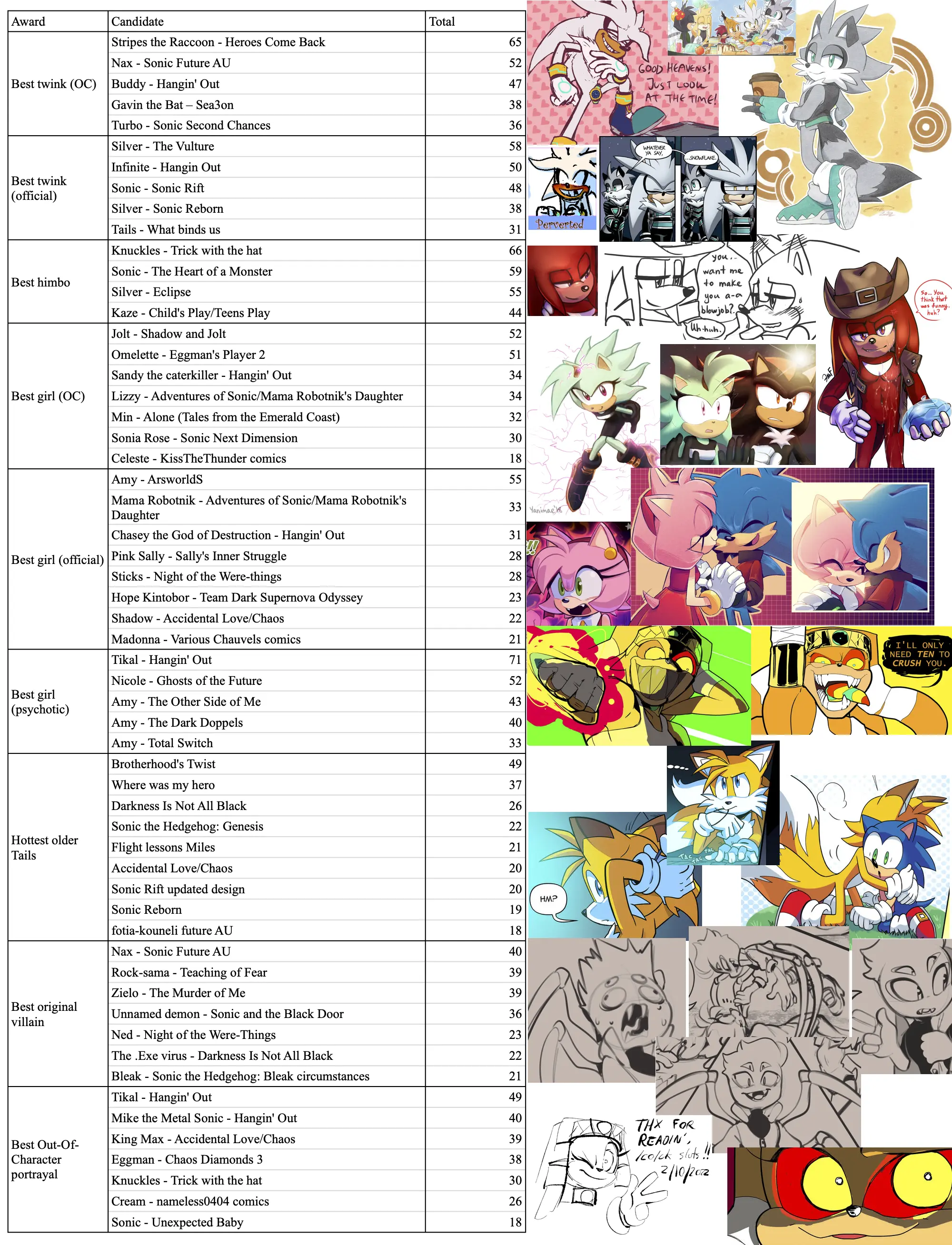 No surprise here, it's Stripes the Racoon! I wouldn't mind buying him a coffee!
Despite being a delinquent and not technically a twink, Vulture!Silver's won, making Stripes and Silver the official best twink couple!
I didn't expect gay cowboy Knuckles to win best himbo, but I'm glad enough of you enjoyed the ~after dark~ storytime. Sorry THoaM!Sonic, maybe next time! Technically this Knuckles is bi, but you should check out the comic with Rouge to confirm!
Narrowly beating Omelette, it's everyone's favorite Shadow fangirl Jolt!
With such a cute and comfy depiction of SonAmy, it's no surprise ArsworldS!Amy won here.
No surprise here either, it's the erotically terrifying Hangin' Out!Tikal!
Despite not having spider limbs or a dark compact with the Tails Doll, Brotherhood's Twist!Tails has won here. I will concede he is pretty hot though.
Very close here, but it's everyone's favorite spider twink Nax!
Tikal again, I love her so!
Comic awards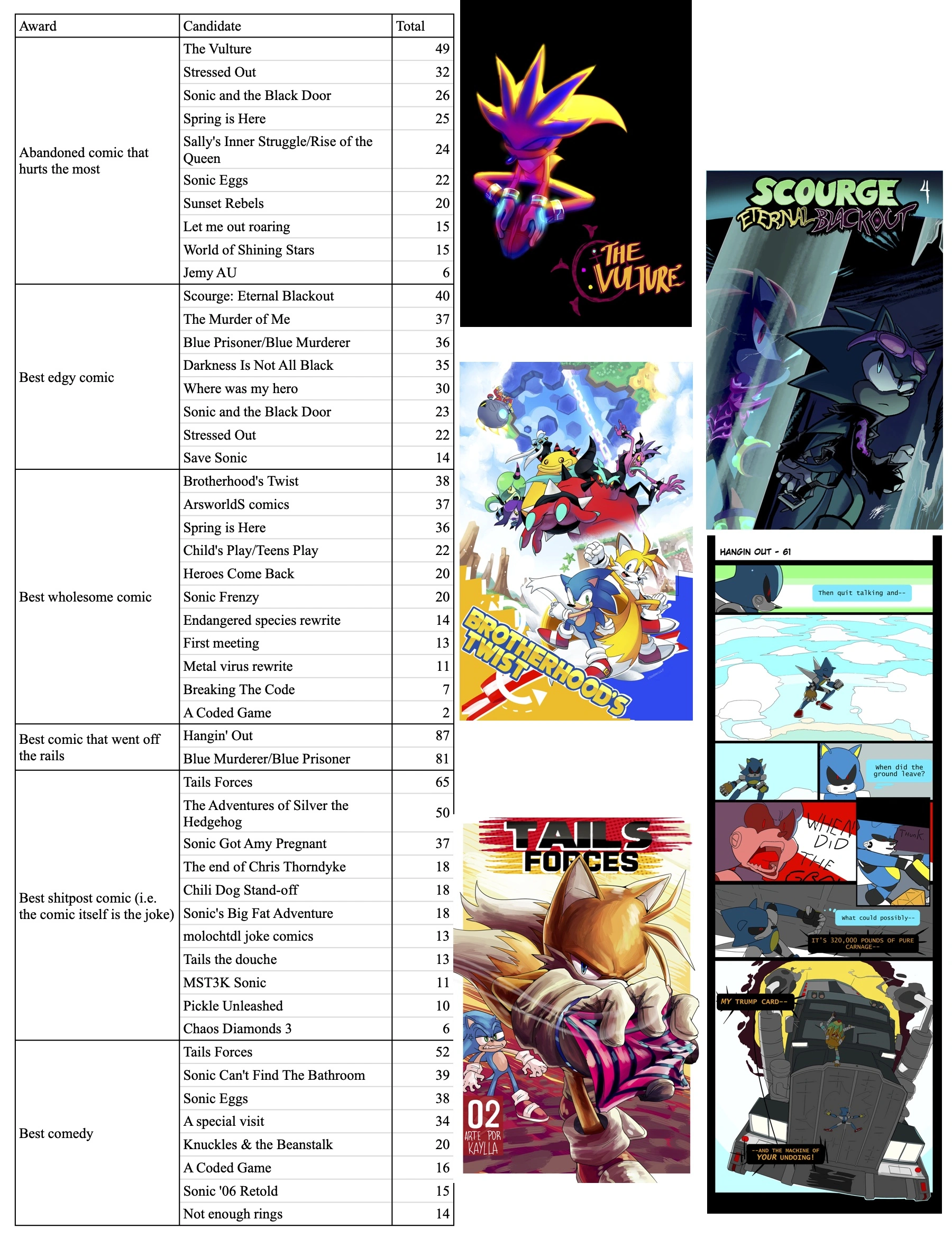 No surprise here, it seems we all have a delinquent Silver-shaped hole in our hearts. Congratulations to The Vulture, may you someday see a continuation in some form.
This one was a surprise. While an excellent comic, I never considered Scourge: Eternal Blackout particularly edgy.
Taking home another award, it's Brotherhood's twist! I'm sure you all just voted for this one because older Tails is hot though.
Hangin' Out bros, we just can't stop winning! Of course going from a fairly standard romance story to Tikal throwing GUN trucks and Orbot basically ruling the world, how could it not win?
Best shitpost/ Best comedy And proving there's no groupings you anons won't fuck with, Tails Forces has simultaneously won best shitpost and best comedy! Sonic can't find the bathroom bros, we were robbed!
Content awards
And the third category, the content awards.
| Coolest moment | Total |
| --- | --- |
| Artists of the comics heard about the Ride | 51 |
| Tails has spider limbs - WWMH | 38 |
| Tails saves the day - Tails Forces | 37 |
| KIM EN, METAL / Everything in Hangin' Out | 32 |
| Silver vs Mogul - Heroes Come Back | 27 |
| Eggman's recording - The Murder of Me | 23 |
| Hyper Sonic / Sonic and Super Sonic trying to stop Green Hills from getting nuked - STCO | 19 |
| Eggman asking Tails to join him, and Tails' response - What binds us | 17 |
| Best villain redemption | |
| --- | --- |
| Mike the Metal Sonic - Hangin' Out | 51 |
| Metal becoming a good guy - Breaking The Code | 38 |
| Scourge's sacrifice against the Second Devourer - Ghosts of the Future | 36 |
| Eggman not torturing babies and being Sonic's wingman | 33 |
| Pirate Omni-Viewer turning into a beautiful lady so the Omni-Viewer doesn't die a virgin - STCO | 18 |
| Super Sonic - Sonic the Continuation | 16 |
Individual character awards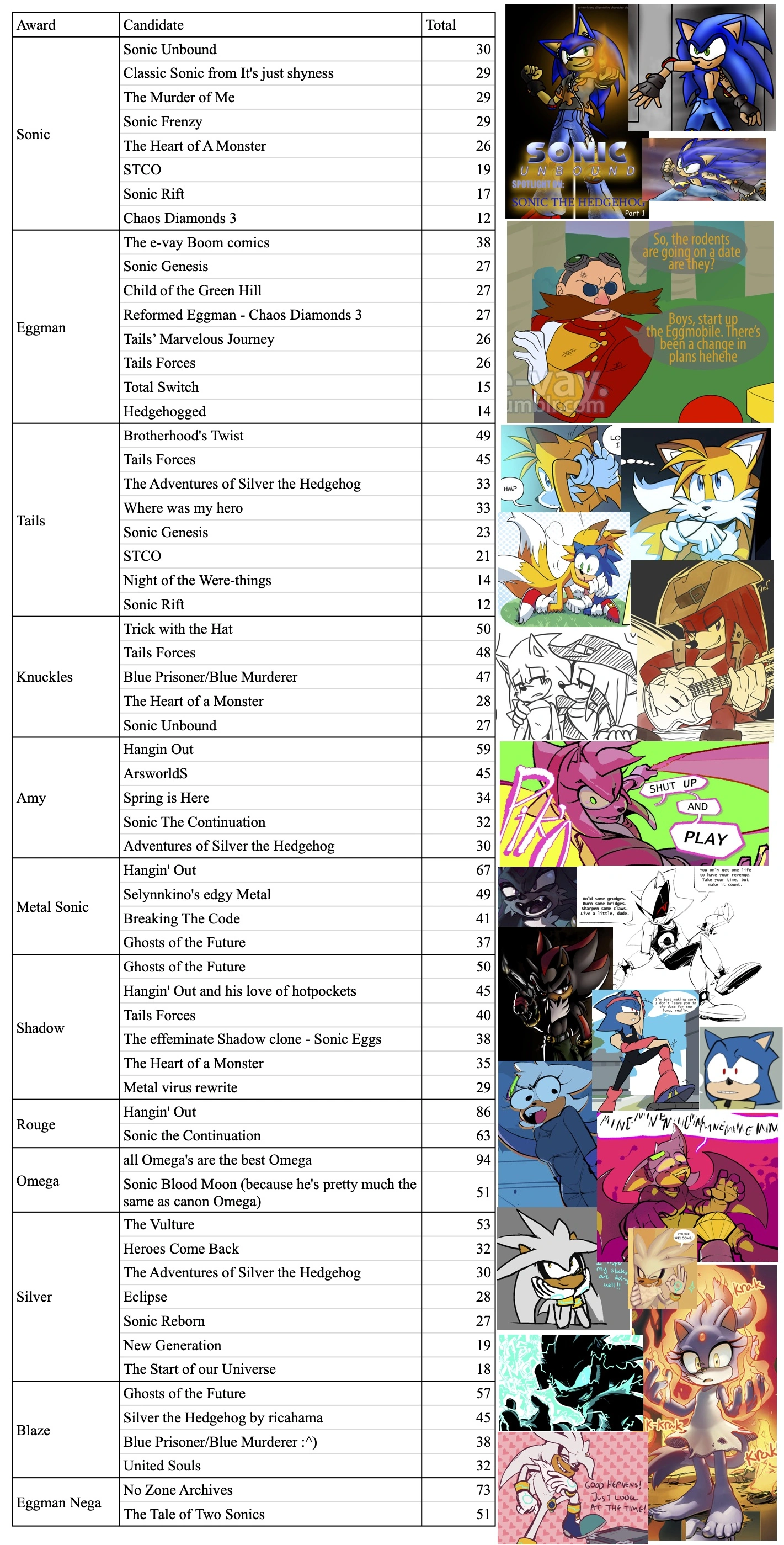 Being one of the most prolific Sonic fan creators, it's no surprise one of Okida's has taken home the award for best portrayal of Sonic.
With a comfy friendly rivalry with Sonic, Eggman from the e-vay Boom comics has won here. Again proving that the Boom continuity is the most comfy!
You people have no taste, he doesn't even have spider limbs, a dark compact with the Tails doll, or taken over the world! He is very hot though.
I'm glad to see you're all as much a fan of KrazyELF's gay cowboy Knuckles as I am.
It's everyone's favorite ping pong champion, Hangin' Out!Amy!
Looking great in legwarmers and Sonic's shoes from the OVA, it's Mike from Hangin' Out!
It's Splinter the Hedgehog!
| Omega | Total |
| --- | --- |
| all Omega's are the best Omega | 94 |
| Sonic Blood Moon (because he's pretty much the same as canon Omega) | 51 |
It's unanimous, Omega's a great addition to any comic.
Another win for our favorite delinquent!
No surprise here, it's GotF!Blaze and her beautiful feet fire!
If only the Zone Cops had just done their jobs.
Thanks again to everyone who participated!
The end of The Ride™?